Training Centre Contact Details
Address:
6th Floor, Building 14
Greenlane Clinical Centre
Pvt Bag 92189, Greenlane
Auckland, New Zealand
(see below for maps)
Tel: +64-9-3074949 xtn 26545#
Fax: +64-9-638-0344

Training Centre Staff

Dr Felicity Plunkett
Director of Training
email Felicity

.


Rosalynn Williams
Administrator
email Rosalynn


Gary Cheung
Academic Programme Director
email Gary
Training Facilitators
(local coordinators of training within each DHB)
Training Facilitator for Auckland DHB (Central Auckland)
Dr James Gardiner (Kari Centre, ADHB: 09-623-4646)
email James
Training Facilitator for Counties Manukau DHB (South Auckland)
Dr Siale Foliaki (Mental Health Management, Middlemore Hospital CMDHB: 09-276-1999)
email Siale
Training Facilitator for Waitemata DHB (North & West Auckland)
Dr Tibi Csizmadia (Waimaririe CMHTs North Shore, WDHB: 09-487-1500)
email Tibi
Training Facilitator for Northland DHB
Dr Murray Patton (via Whangarei Hospital NDHB: 09-430-4100)
email Murray (temporary, while Dr Humberstone is on leave)
---
Maps
Map of Greenlane and route to the Training Centre.
Those with an ADHB parking sticker can use staff parking areas at low cost. Others can use visitor parking, but it costs more.
See the map below for cheaper parking options.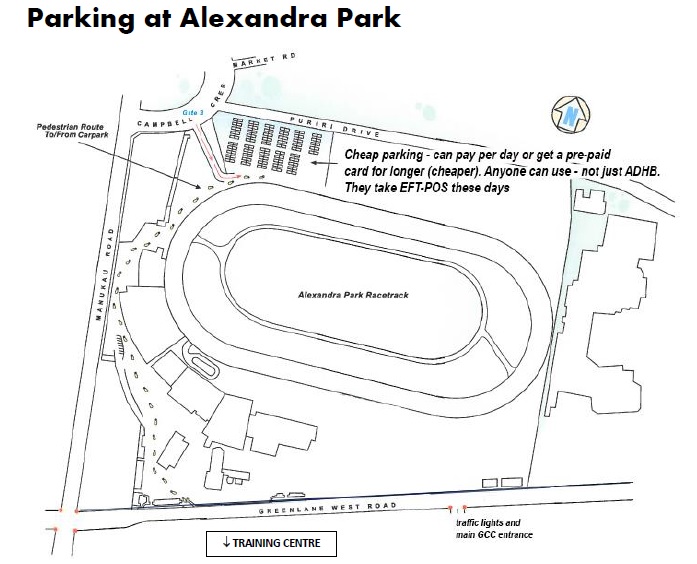 pdf file download of the map above
You can sometimes find a park in Claude Road or the streets near Claude Rd, but be warned, parking wardens do check so you might get a ticket.
If you're parking over behind Alexandra Park a steering wheel lock is recommended as it's a bit isolated.